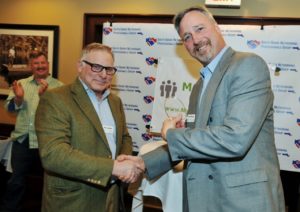 Last year's Networking Ninja awards had a surprise award–an Unsung Hero honor for yours truly. This year will also have two surprise awards–Rookie of the Year and Lifetime Achievement. We will announce both at the ceremony on Tuesday, April 16 at the joint networking event of My Pinnacle Network and the South Shore Networking Professional Group, held at the Cask & Flagon in Marshfield.
Speaking of the Ninja awards, this is the FINAL week of voting. If you do want to cast your vote for the best B2B networkers you know, you can do so by clicking on the button at the bottom.
The categories for the Networking Ninja Awards are:
Best Connector – helping bring people together)
Most Ubiquitous (appears to be at every networking event)
Most Altruistic (does most for others)
Brightest Beacon (adds energy to networking events)
To vote, click here. Use the pull-down arrow on the far right in the Nomination Category to select the category. You may vote for My Pinnacle Network members or other B2B professionals in your network.