BRAINTREE, MARSHFIELD, MANSFIELD, NEEDHAM, PEMBROKE, PLYMOUTH and WESTBOROUGH, MA …
For the past five years, My Pinnacle Network, a business to business networking group with monthly meetings in Braintree, Mansfield, Needham, Pembroke, Plymouth and Westborough, MA, has recognized the networking efforts of B2B professionals with its annual Networking Ninja Awards. This year's awards ceremony took it a step further with a lifetime achievement award given to David and Pam Snell, owners of ACTSmart IT of Pembroke.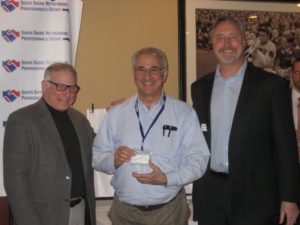 "The Snells have been networking well before the concept of networking was popular," noted Steven V. Dubin, one of the founders of My Pinnacle Network. "David and Pam are gracious, generous and giving and have been so for decades. They are the personification of 'the good neighbor'."
David and Pam Snell have been recognized as part of the 2019 My Pinnacle Network "Networking Ninja Awards" for their "Lifetime Achievement" of selflessly sharing the ActSmart IT training room for workshops, seminars and networking groups and for proactively reaching out to business and civic groups to assist with technology, marketing and support for many decades.
In addition to the Snells, five other B2B professionals received Networking Ninja awards.
Sheldon Prenovitz of Foxborough, MA-based ConnectPay won the Best Connector Networking Ninja Award. He is a member of My Pinnacle Network-Westborough.
Alex Bungener of Digital+, LLC of Cape Cod received The Most Ubiquitous Award. He is a member of My Pinnacle Network-Pembroke.
Calvin Nelson, a freelance art director and graphic designer from Stoughton, MA, won the Most Altruistic Networking Ninja Award. He is a member of My Pinnacle Network-Mansfield.
Lisa Levesque, owner of Northeast Business Coaching, took home the Brightest Beacon Award. She is a member of My Pinnacle Network-Mansfield.
The Rookie of the Year award marked the second additional Networking Ninja given this year. That honor went to Joe Moser of Rockland Trust. He is a member of My Pinnacle Network-Pembroke.
"Congratulations to all the winners. We had a number of networkers nominated for these awards and these individuals stood out as the cream of the crop in our region," said Steve Dubin, founder of My Pinnacle Network. "Each of these winners has proven themselves to be first-rate connectors who are givers first, which is how they ultimately receive referrals for their respective businesses."
Winners received their trophy at a joint networking event hosted by the South Shore Networking Professional Group (https://ssnpg.com/) on April 16 at the Cask N Flagon in Marshfield, Massachusetts. This year's award marks the third time the two networking organizations have co-hosted the event.
"Networking, sharing information and opportunity, is what makes the world go around," noted Dubin. "Both whimsical and pragmatic, the Networking Ninja Awards provide recognition for many who typically do great deeds and humbly hang is the shadows."
For information about the Networking Ninja Awards, please visit www.MyPinnacleNetwork.com, or contact Steven V. Dubin at SDubin@MyPinnacleNetwork.com or 781-582-1061.